More Board Member profiles coming soon!
Officers
Tamara DeRidder (Chair)
I am second generation immigrant from Belgium on my Dad's side and my Mom has Scottish heritage. Both parents are educators from Michigan that raised a large family south of Knoxville, Tennessee. I moved out to Portland in 1985 with my partner and soon began my graduate program in Urban Planning. We moved to Rose City Park in 1986. I have served as a land use planner in the Portland-Metro area since 1990: Planning Director/Manager in Cities of Sandy, Oregon City, and Fairview, Oregon; Long Range Manager of Vancouver, Wa; and my own practice as TDR & Associates since 2007. I have been a member of the RCPNA Board twice. Once for a brief period while working at the City of Sandy and then again starting in 2008. I have served on the Land Use and Transportation Committee this whole time and am currently the Chair of that Committee. I was elected as the Chairwoman of RCPNA in 2014.
Since I began on the RCPNA Board in 2008 I have seen it as my role to empower members of our community by teaching them the tools they need to respond to local issues – primarily having to do with land use activity. I led the 3+-year planning and implementation of our Community Garden at Frazer Park that opened in 2012 with my goal in 2008 to provide those without land a place to raise food during the depression that began that year. Since I began on the Board the number of participants on the Board has grown from 9 to 15 members. I supplied the first 350 email addresses gathered from land use meeting participants over the years as the basis for our MailChimp e-Updates. I am very excited about the work of our committees and continually impressed by improvements made by our Communication's team to the RCPNA.org website, newsletters, and signage. It is my hope that through our expanded use of the NextDoor blog site, invitation postcards, and event signage we will be able to expand our communications platform to become more inclusive of both businesses and residents of our wonderful community.
Ed Gorman (Vice Chair)
Ed and wife Sheri have lived in, and raised three children, Rose City Park since 1986.  The children all attended Rose City Park Elementary School, Gregory (Roseway) Heights Middle School, and Grant ( 2 sons 4 years each; daughter 2 years) and Madison (daughter 2 years) HS. Over that span of time Ed had the opportunity to coach years of boys and girls youth soccer and basketball. He served as the President of the Rose City Youth Soccer Club for four years. He was the President of the Rose City Park School Foundation fundraising organization, and was on the School Site Councils of Rose City Park Elementary School, Gregory Heights Middle School, and Madison High School. He recently retired from Portland General Electric after 39 years of employment with the utility. He returned to the RCPNA Board and Land Use and Transportation Committee after a several year absence that was the result of the demands of employment. He has been appointed the RCPNA representative to the Central Northeast Neighbors Land Use Transportation and Open Places committee. During his initial period of membership on the RCPNA Board and LUTC he found it very rewarding to work with quality persons who were vitally interested in their neighborhood and striving to improve the neighborhood across a spectrum of issues and events. He anticipates his second period of membership on the RCPNA Board and associated committees will provide meaningful and rewarding experiences during retirement.
Jennifer Santhouse (Secretary)
Jennifer grew up on the East Coast and moved to Portland with her husband Bob Graham in 2008. While walking through the neighborhood, Bob and their chocolate lab, Bernie found their dream house and moved to Rose City Park in 2012 just in time to welcome their son.  Two years later, their home was filled with more joy with the arrival of their daughter.  Now Jennifer spends her free time gardening, running and attending sports events for their two young children.
In addition to her new role on the RCPNA Board, Jennifer volunteers as a member of the Communications Committee which publishes the Rose City Park Review and is working toward her Neighborhood Emergency Team certification.  Her other philanthropic endeavors include the YMCA of Columbia-Willamette Association, Hollywood Rose City Little League, Immigrant and Refugee Community Organization and various animal welfare organizations.
Richard Crockett (Treasurer)
Richard and wife Jeanette have lived in Rose City Park for over 30 years. A retired middle school math teacher, Richard serves as the treasurer of RCPNA and also does the same for The Rose City Timberliners, a local male barbershop singing chorus and for the Genealogical Forum of Oregon. He is a long- time volunteer and supporter of All Classical radio (89.9). He currently works as the Program Operations Director for Chess for Success, a leading non-profit provider of after school programming in Oregon and southwest Washington.
Members
Kelly Davis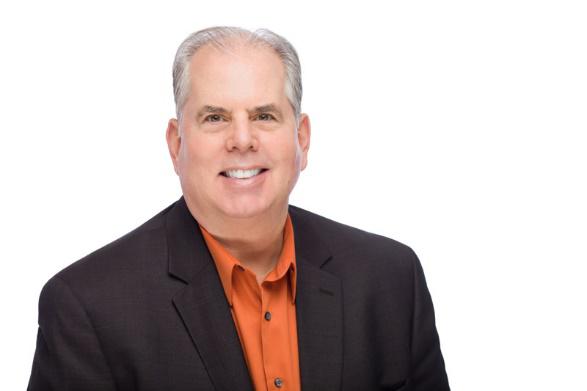 Kelly moved into Rose City Park in 1981 and got involved in the neighborhood shortly thereafter under the urging of a co-worker who was actively involved in the Comprehensive Plan updates for RCP and other issues. As an Architect, Kelly naturally gravitated to Land Use and Transportation (LU&T) issues. He soon became close with the then Chairman of the RCPNA, George Walker. George and Kelly were co-chairs of the neighborhood for a couple of years before Kelly became Chair – the beginning of a 17-year run. In 2010, Kelly was transferred to his company's Washington, DC office and ran that office until his return to Portland in 2017. He rejoined the Neighborhood Association and is currently Co-Chair of the LU&T Committee. Kelly lives in a 1907 Victorian (one of the first houses built in RCP) with his wife Jackie. He has two daughters – Kelsie who is the DA for Union County Oregon and Courtney who is a Structural Engineer in Portland. Kelsie and husband Kyle had his first granddaughter (Addie) in 2017, which pretty much accelerated his move back to PDX. Kelly retired in 2017 from ZGF Architects and is happy to be back in the Rose City.
Jay Griffith
Meg Griffith
Don Levine
Terry Parker
Born in Portland and starting at the age of four, Terry grew up in the Rose City Park Neighborhood attending Charles Rice, Rose City Park and Madison High schools. Continuously living in the neighborhood, now retired and serving as Rose City Park Neighborhood Association Board member and on the Land Use and Transportation Committee; most of Terry's career was in the yellow page industry as a National Account Representative working with Customer Marketing Representatives hired by national corporations to place advertising in up to 300 yellow page directories within a 14 state region. Terry also has held positions in automotive related fields and as a Supply Center Manager for a three state savings and loan… (Click to View Full Bio)
Joe Saraceno

A born and raised Oregonian, Joe has traced his Oregon roots back to the 1800's. He graduated from Canby Union High School, earned his BFA from Southern Oregon University and his MFA from Case Western Reserve University in Cleveland, Ohio. He has been a resident of Rose City Park since 2010.
Joe is a founder of the Rose City Park Revitalization Project. The goal of the RCPRP is to connect neighbors in an effort to revitalize the play area in Rose City Park. The group is building a coalition of support among the community and the city to help move this project forward. The current layout and design of the park has remained unchanged since its inception in the 1950's. The road to revitalizing the park will be a long one, but with community support, we can get there.
In addition to Joe's civic duties, he has worked professionally to support local nonprofits like the Hollywood Theatre, Friends of Trees, Boys and Girls Club of Portland, The Oregon Humane Society and several local area schools and youth organizations.
Newsletter Editor
Lynn Della
Lynn was born in Savannah, Georgia, and moved to the Willamette Valley when she was 17 months old and has lived in the Pacific Northwest ever since, aside from a 2½-year sojourn in the southern California desert about 10 years ago. Upon returning to Portland, she and her longtime partner, John, settled in Rose City Park. She is one of the few Board members who are renters.
Her family consists two sisters, one who lives in a suburb of Detroit (MI), and one who just moved from the Atlanta (GA) area to northwest Arizona, and their collective four sons, one of whom lives in Gresham, and extended family who live primarily in Washington, Colorado, Arizona, Texas and South Carolina. She is also privileged to be the de facto stepmother to John's daughter and grandmother to her children, now ages 10½ and 8, who live in the Bay area. She and John visit as often as possible.
Lynn has been employed in the legal field for more than 30 years, working in both local law firms and large, multinational corporations. Prior to entering the legal industry, she provided executive support services in a variety of industries.
A highlight of her "pre-legal" job history was working for the first motion picture company allowed to film in the People's Republic of China, in the early 1980s, after the political distance between it and the U.S. was eased in 1979. Her responsibilities included facilitating the visa applications for 55 U.S. and foreign citizens, including a number of celebrities. The company also acquired the distribution rights to the first independent film made in modern China, and Lynn represented the company at its U.S. premiere at the San Francisco International Film Festival, and was the corporate liaison to the marketing agent for its international distribution rights.
Lynn has been involved with live theatre since she was a child, both as a performer and, later, in a variety of back- and offstage capacities, and was a founding member of a local musical theatre group. She has also performed with a number of other local companies, as well as in Washington and California, Vancouver, B.C. and in France.
She has had a long interest in writing, specifically journalism, since junior high; one of her first "real" jobs was as a proofreader for her local newspaper. She has written for and/or edited a variety of newsletters and other publications. In addition, she has also collaborated for more than 30 years with a prominent local attorney on more than 20 books and dozens of columns and articles on a variety of legal topics, primarily in the specialty areas of art and intellectual property law and also business law.
Lynn was raised by parents who strongly believed in supporting community, and in volunteerism. She was active in the service activities of Camp Fire Girls from second grade through high school, and was a Red Cross "blue striper" hospital volunteer following graduation. She has also entertained residents as nursing and retirement homes and for veterans' organizations at varying times as an adult, and has volunteered generally for other civic and charitable organizations.
Lynn became active with RCPNA in the fall of 2018, when she became the Editor of the Association's Rose City Park Review and, by extension, a member of the Communications Committee.
Her other current interests are reading (most often mysteries and mystery/thrillers) and genealogy (her online family tree currently includes about 2,000 people and goes back to the early 1500s).